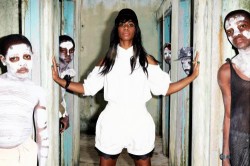 Plan B, Santigold and lots of other 'acts' for whom the price is right have all agreed to play some gigs for Converse at London's 100 Club to celebrate it still being open.
The venue faced closure a year ago but was saved after Converse got involved with their massive piles of cash so they've decided to have a nine day long party to celebrate, all under the banner of Represent.
Plan B will play on July 30, while Santigold will 'do her thing' on August 7. Popjustice favour­ites Pulled Apart By Horses will sing some songs there on August 9, so make sure you get involved. They'll be supported by Wet Nuns, should you need any more persuading.
There's more inform­a­tion on who is playing when here.