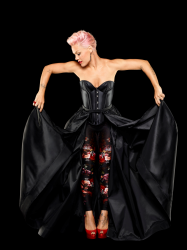 P'!'nk, One Direction and Taylor Swift were all 'honoured' at the 10th annual Billboard Touring Awards thing last night.
You probably don't need reminding, but in case you do, the Billboard Touring Awards "honour the concert industry's top artists, venues and pro­fes­sion­als for the year, primarily based on the Billboard Boxscore chart and box office per­form­ance between October 1, 2012, and September 30, 2013."
Anyway, P'!'nk scooped the Top Boxscore award for her six-week long run at the Rod Laver Arena in Melbourne, which grossed a ridicu­lous $30m.
"It means the world to me," the 'Dear Mr President' hitmaker said, "because touring is the only thing I care about."
While One Direction won the Breakthrough Award, Taylor Swift collected the Top Package Award, honouring the top-grossing tour with three or more artists on the bill (appar­ently her Red Tour featured Ed Sheeran, Joel Crouse, Brett Eldredge, Florida Georgia Line and Casey James, but you knew that already).