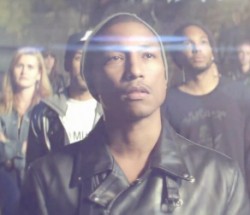 Pharrell Williams has launched his new media pro­duc­tion and dis­tri­bu­tion company thing. It is called i am OTHER.
Setting out a fairly ambitious stall, i am OTHER hopes to attract "thinkers, innov­at­ors and outcasts" in the fields of music, film, design, art and dis­trib­ute their wares through online, mobile and retail channels, TV shows and films.
Over to Pharrell to explain. "It's for people who think other," he told Variety this time last year, "with other being the operative word."
No idea. Let's hear a little more.
"A lot of companies claim they can make the world better," elab­or­ated Pharrell. "We want to make lives easier and unlock what normally would seem impossible possible."
No, still none the wiser.
They've made a nice ad if you like to watch that here. Can't we just have another N*E*R*D album instead, prefer­ably with all songs remixed by Jason Nevins and Alesha Dixon in every single video?