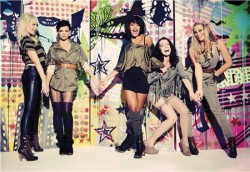 Parade have made some rather bold claims in the latest issue of Fabulous magazine.
One third of a feature billed as "Home-grown & red hot" (the other two 'new' acts are Sunday Girl and Dionne Bromfield), Parade have announced that their aim is for "world dom­in­a­tion" and that they want to be as big as the Spice Girls.
Their current single 'Perfume' recently entered the charts at Number 38.
The band also have some things to say about The Saturdays, claiming to be flattered to be compared to them, but also not massive fans of their style. "Style-wise, they all dress similarly. Also we do a lot of street dance and although The Saturdays dance, it's not street. We're more urban," states Jessica.
Elsewhere, they reveal they are all, quite literally, different people, with one being a hippy, one being a bit of a tomboy, one being "grungy", one being cockney and the other just the eldest.