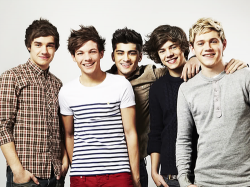 Fans of One Direction and audio-related elec­tron­ics rejoice, the boyband are set to release a range of products this Autumn.
The range, designed by elec­tron­ics company Jazwares, will use One direction's image to sell "head­phones, speakers, micro­phones, ear buds, walkie talkies [?!], alarm clocks, boom boxes, a karaoke machine and more".
With a keen eye for a lucrative demo­graphic, Jazwares had this to say of the branded range: "With more than three million Twitter followers and a debut album that has gone gold and platinum across the globe, it's clear that the guys from One Direction are super­stars that tween and teen fans can't get enough of."
"We are thrilled to add One Direction to our portfolio, and look forward to devel­op­ing our program with the band to bring personal and innov­at­ive elec­tron­ics to their millions of fans."
Meanwhile, we're still looking for a pair of The Perfect Headphones 'by the way'.