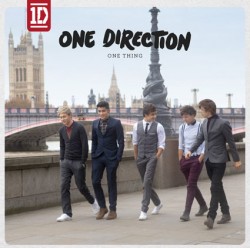 One Direction have 'premiered' their new music video for 'One Thing'.
The third single from 'Up All Night' sees the smart-casual crooners 'larking about' near London's landmarks, singing on an open top red bus and per­form­ing in Trafalgar Square.
It is almost as if it has been made spe­cific­ally with the intention of marketing One Direction with a tourist-friendly idea of Englishness to other ter­rit­or­ies.
The video premiered at 4pm today following a 5‑day teaser type thing like they did for 'What Makes You Beautiful'.
If you haven't been clicking refresh on the band's VEVO page all afternoon already, you can watch the video now.