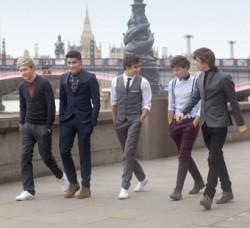 One Direction could well become the first UK band to debut at Number One in America with their debut album.
According to Billboard the "vocal quintet" are set to sell between 160,000 and 180,000 copies of 'Up All Night', with their nearest rival, Adele (obviously), on course to sell around the 160,000 mark.
While British bands such as Coldplay, The Beatles and the Spice Girls have all had US Number One albums, none of them managed a Number One debut with their first album.
The updated chart will be announced on Wednesday March 21.