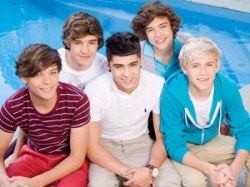 One Direction have become the first British band to enter at Number One on the US charts with a debut album.
According to a pretty excitable press release 'Up All Night' sold over 176,000 copies last week, enough to beat Adele who you'd have assumed would have been destined for her 88th week at Number One.
Frontman Niall Horan had this to say about the success: "When we got put together as a group, we couldn't imagine ourselves coming to America, let alone releasing our album here, so for us to be sitting at the top of the US album charts is unbelievable."
Niall's backing singer Harry Styles, meanwhile, wanted to thank the people of America in general, gushing: "We want to thank each and every one of our fans in the US who bought our album and we would also like to thank the American public for being so sup­port­ive of us."
Well done 'lads'.