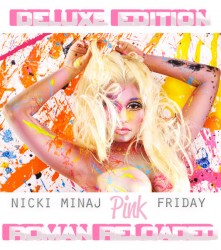 A sampler of the deluxe edition of Nicki Minaj's 'Pink Friday: Roman Reloaded' has appeared online and then (mostly) dis­ap­peared again.
The mammoth 22-track sampler featuring one-minute clips of each track surfaced last night but was quickly removed by the fun police. Luckily, at least one version of the snippet marathon seems to have survived here for now.
The album goes on sale on April 3 and there's a track­list­ing below so you can pick which song is your favourite.
1. Roman Holiday
2. Come on a Cone
3. I Am Your Leader (Ft. Cam'ron & Rick Ross)
4. Beez in the Trap (Ft. 2 Chainz)
5. HOV Lane
6. Roman Reloaded (Ft. Lil Wayne)
7. Champion (Ft. Nas, Drake, & Young Jeezy)
8. Right By My Side (Ft. Chris Brown)
9. Sex in the Lounge (Ft. Lil Wayne & Bobby V)
10. Starships
11. Pound the Alarm
12. Whip It
13. Automatic
14. Beautiful Sinner
15. Marilyn Monroe
16. Young Forever
17. Fire Burns
18. Gun Shot (Ft. Beenie Man)
19. Stupid Hoe
Bonus tracks:
20. Turn Me On
21. Va Va Voom
22. Masquerade
We'd suggest a nice cup of tea after all that.