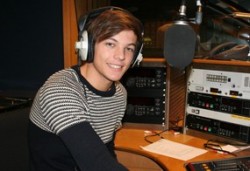 One Direction will 'host' a series of indi­vidual shows on Manchester's KEY103 radio station.
Each member will front their own one hour 'Direct from 1D HQ' slot each Sunday afternoon for five weeks.
Zayn's (we assume pre-recorded) show will be the first to be broadcast on January 22. He told the station: "What a way to start 2012 – getting our own shows. We're really excited to get on air and pick the playlist!"
Expect 60 minutes of intro­spect­ive minimal techno from Niall and lots of Ed Sheeran from Liam.
You can tune in here from 3–4pm on the following dates:
Zayn: January 22
Liam: January 29
Niall: February 5
Louis: February 12
Harry: February 19
We're busy on February 5, sorry.