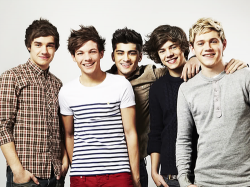 One Direction have 'inked' a deal with Pepsi and have already filmed their first advert according to The Sun.
Niall and the others will appear in the advert with some famous American Football players and it was all filmed in New Orleans last weekend.
According to a well-placed 'source' with access to the band's 'inner circle' (crikey) "the boys were under strict instruc­tions to stay quiet on this one and refrain from tweeting about their whereabouts".
"This is a huge deal for them in monetary terms — but even bigger for status as the coverage they'll get from it is massive," the 'source' continued.
"They're already stars across America, but this could catapult them to superstardom."
The 'lads' join the likes of previous Pepsi-lovers Britney, Michael Jackson and Beyoncé by appearing in the adverts.