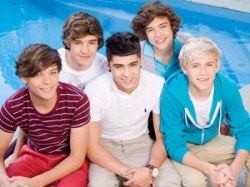 One Direction's 'What Makes You Beautiful' has entered the US singles chart at Number 28, giving them the biggest debut for a UK act on their first single since 1998.
The feat is even more impress­ive given that the single has yet to 'go to radio', with radio play making up nearly half of the criteria for the main chart.
'What Makes You Beautiful' sold 132,000 copies last week and also debuted at Number 12 on the digital chart, reports Billboard.
The last UK act to enter higher with their first US single were The Verve with 'Bittersweet Symphony' in March 1998 and that was bloody ages ago.