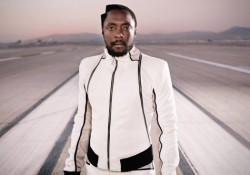 According to Rolling Stone, this amusing legal spat between will.i.am and Pharrell has taken another twist after Pharrell's attorney called Mr i.am's tweets denying he was suing Williams "revi­sion­ist history".
Basically, following will's tweets yesterday his lawyer Ken Hertz released a statement reit­er­at­ing that his client wasn't suing Pharrell but that it was a "run-of-the-mill trademark procedure" in order to "defend trade­marks that have been registered and that [will.i.am] has used widely and con­tinu­ously for many years."
"We own a trademark," Hertz continued, in reference to the words I and Am. "They have applied for a trademark. We think their proposed trademark is too close to our registered and common law trade­marks. They disagree. We hope to work out a sensible com­prom­ise that will allow both parties to move forward without unne­ces­sary acrimony."
So then Pharrell's attorney, Brad Rose, had this to say about everything:
"The state­ments made by Will and his advisors over the past two days amount to revi­sion­ist history in the face of the public con­dem­na­tion against Will that has resulted after this story broke yesterday. "The plain truth is that Will has obstruc­ted every overture made by Pharrell to amicably resolve this matter and has stead­fastly refused to engage in a dialogue. Will and his trademark counsel have insti­tuted no less than eight cases against Pharrell in the Trademark Trial and Appeal Board and have also threatened on more than one occasion to sue Pharrell for trademark infringe­ment in Federal District Court for damages and an injunc­tion. All of this because Will mis­guidedly believes that he has the sole right to the words I AM in commerce, not­with­stand­ing the myriad of I Am compound trade­marks that coexist on the trademark register and in the mar­ket­place."
It's all a bit silly really.