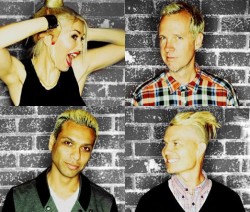 No Doubt have finally confirmed the released of their new album.
It's called 'Push And Shove' and it's out on September 25 (this year), preceded by the single 'Settle Down' on July 16.
As we've pre­vi­ously reported, the band have been working on the album with pop mas­ter­mind Mark 'Spike' Stent.
The 'Settle Down' video will surface in early July, and will be directed by Sophie Muller so will no doubt be 'pretty watchable'.
In a statement on the band's website the quartet were also keen to plug their Twitter accounts: @nodoubt for the band then @gwenstefani, @AdrianYoungND, @TomDumontND and@tonykanal for the indi­vidu­als.