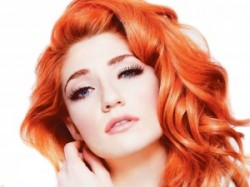 Nicola Roberts has been announced as the ambas­sador of Cancer Research UK's SunSmart Campaign.
The 'Beat of My Drum' hitmaker, whose 'porcelain' skin makes her a bit of a shoo-in for this kind of thing, will front the campaign to raise awareness of the damage the sun can have on your skin.
"It can be so easy for skin to burn, even here in the UK, so it's important that we know how to protect ourselves" she says. "Get to know your skin and how it normally reacts in the sun. That way, you'll know what steps you need to take to protect your skin from sunburn."
CHEERS ROBBO.
Nicola, of course, also has a range of make-up espe­cially for light-skinned women and last year made a BBC Three doc­u­ment­ary about "tan­or­ex­ics", or people addicted to tanning beds.
Nicola has also been talking to the Metro about the usual stuff — the single, going back to Girls Aloud, dancing in front of a group of bankers — and, for the sake of this story, "anti-ginger prejudice". When asked if she'd ever been bullied for her hair colour, she said: "I was never bullied at school. When you're confident about something, people can't bully you about it. I love my hair and always have."