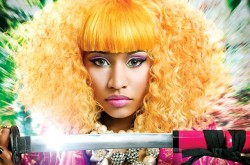 Nicki Minaj's follow-up to 'Pink Friday' will be released in the early months of 2012.
Brian 'Birdman' Williams, the co-CEO and founder of Minaj's label Cash Money, recently spoke to Billboard about the album's devel­op­ment. He stated that "she's in the studio, and we're looking real soon, because she's ready to go and we're ready to go with her''.
However, 'Birdman' was less certain about when the lead single will be released. "Maybe this year? I don't know."
This follows spec­u­la­tion that Nicki would be recording as her gay male alter-ego, Roman. In a blog post that was sub­sequently taken down, she wrote that Roman "will address the nation in the form of music. He will also announce the date".
JUST GET ON WITH IT.