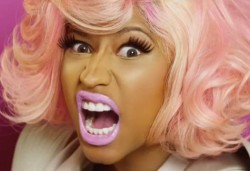 Nicki Minaj likes to contour her face.
The 'Hundred Million Dollarz' hitmaker thought it was necessary to talk about her face-changing habits (quoted here), saying: "I'm really into con­tour­ing to change the shape of my face. When it comes to putting on fake eyelashes, I use a little ima­gin­a­tion, a lot of eyeliner, a steady hand and no fear. For me, more is more.''
Tell us more.
"I never go to bed with my make-up on — ever. I drink tons of water and slather myself in cocoa butter. I have a der­ma­to­lo­gist in LA who gave me some great advice — never use anything to wash my skin that contains alcohol or ail.''
We hope she keeps her hair in good nick too. We hear Dominican hair­styl­ists are good.
"I go to a Dominican hair­styl­ist who uses a lot of hot oil treat­ments and I use really mois­tur­ising Mizani shampoos and masks.''
So now you know.