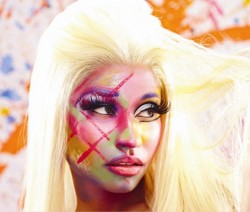 Nicki Minaj has had it up to here with the media calling 'Pink Friday: Roman Reloaded' a pop record.
"I get tired of people making state­ments that go to the world and they will read what you write and what you're saying isn't true," she ranted at The Sun.
Nicki went as far as saying the album is more remin­is­cent of her earlier works 'Sucka Free' and 'Beam Me Up Scotty'. "My new album has five dance tracks on it produced by RedOne, who I'm abso­lutely in love with," she insisted. "Prior to that, it has a very mix tape feel that people need to know about."
Yes that's all very well Nicki but where the fuck is this 'Starships' video.