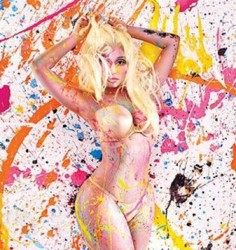 Notorious funster Frank 'Tina' Turner had a bit of a run in with Nicki Minaj and her entourage at T In The Park yesterday.
'Taking to Twitter' Turner retweeted a message posted by his backing band which claimed Minaj's security "pushed a crew person off the path into the mud so she could walk past".
Turner then 'fumed': "To clarify: Nicky (sic) Minaj has been being a total selfish shithead to all the hard­work­ing crew backstage at T. Pathetic. Fuck off."
"You can (I suppose) be a dick to your own crew, you're paying them," he continued. "But everyone else? And not to mention the people out front. Ugh."
Having received some fairly 'colourful' tweets from Nicki's fans, he added: "Also for the record: I have no opinion either way about Nicki Minaj's music, don't think I've ever heard it."
The thing is, he'd probably love 'Starships'.