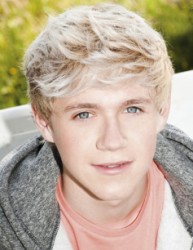 One Direction frontman Niall Horan has chal­lenged Olly Murs to a duel.
After Olly tweeted that he had been sparring with a pro­fes­sional boxer, notorious hardman Horan mocked: "olly you wouldnt knock snow off a rope! hahahaha."
An under­stand­ably shaken Murs was keen to cool tensions and replied: "true!! I've seen monkeys take better swings!! I was awful!!"
Horan jeered: "hahahah i'll take ya on !" This final insult prompted Olly to suggest that "its on mate" and the pair should fight it out during their American tour this summer.
We would quite literally pay upwards of £12 to see this happen.
Niall! Niall! Niall! etc.