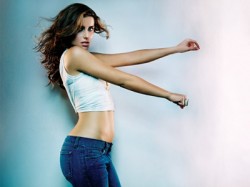 Nelly Furtado is using Twitter to reveal lyrics from her imminent album 'Lifestyle'.
It seems the whole thing started on May 7 with the mildly racy "I wanna do all of the same things that you wanna do to me" (BUMSEX?!?) followed by the slightly less sexy hashtag, "#lyrics."
May 9 brought us the per­plex­ing "..And you'd bring all of your bags full of our memories that we've never had", while yesterday we got the con­ver­sa­tional, "I'm just saying this world is so crazy and she'd better keep up to keep calling you baby".
Today things got a little more descript­ive, with Nelly seemingly advising someone about what to do should they feel a little tired. "When you're burnt out baby you gotta come down thought you had it figured out".