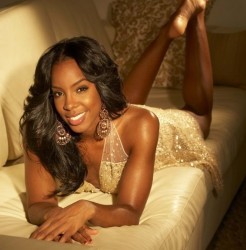 In a Billboard exclusive, Kelly Rowland has revealed that her new album will be called 'I Am Here' and will come out at some point this "fall". (Autumn.)
The reason for the title is simple: "I wanted people to know that this is the record, the sound I've been working toward… That here I am."
Collaborators on the album include Dr Luke, Stargate, Jim Jonsin, RedOne, Tricky Stewart and Rodney Jerkins, with Rowland referring to it as "very strong".
As with any interview involving Kelly Rowland, Beyoncé was mentioned, with Billboard asking Rowland what she made of Beyoncé being awarded the Billboard Millennium Award. Rowland was "excited", saying "nobody deserves it more than she does". AHEM, WHAT ABOUT JENTINA?