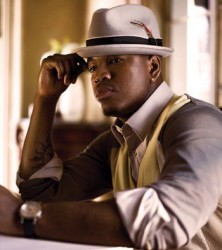 Ne-Yo has said there was "no way" his col­lab­or­a­tion with Calvin Harris on 'Let's Go' could go wrong.
As quoted by Contactmusic the never knowingly modest 'Champagne Life' hitmaker said: ''I was excited about working with Calvin Harris on this song. Calvin is a genius and I'm not so bad myself at what I do — there was no way for this col­lab­or­a­tion to go wrong."
Harris, meanwhile, had this to say about how he came up with this par­tic­u­lar slice of 'genius': "When I make music I always imagine in my head the biggest venue possible. It is just a big hands-in-the air euphoria that I like to try and induce through music."
The song is part of Pepsi's Kick In The Mix campaign and will also feature on Harris' forth­com­ing album.