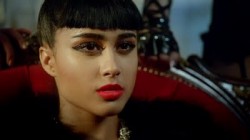 Natalia Kills has claimed in an interview with Billboard that Bill Clinton tried to chat her up at a charity function in Austria.
Natalia was per­form­ing at the Life Ball, which raises money for AIDS-related causes, when she caught the eye of Bill Clinton. "He was kinda staring at me, and I was sorta ignoring it, thinking he was staring at Brooke Shields because she's so beautiful," Natalia told the interviewer.
"But he walks over and says, 'Nice to meet you. I'm Bill.' And I was like, 'Yes, I know, my name's Natalia,' and he said, 'I know. You're Kills.' I guess he'd been asking everyone all night, 'Who is this eccentric, exquisite-looking girl?' Then he asked to take a picture with me."
This is def­in­itely something that happened.