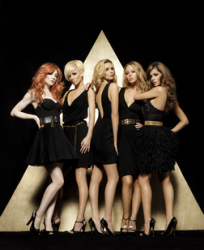 Nadine Coyle has confirmed that Girls Aloud will be back to celebrate their ten year anniversary at the start of 2013.
Talking to the Sunday Mirror's Dean 'Pipo' Piper, Coyle said: "It will be arena dates at the start of next year and we will have new music to go with it. One or two singles I would think. It depends on how well it goes with the tour announcement."
She went on to tease: "If we're all in the same head space as a band then who knows what could happen?"
Literally, who does know?