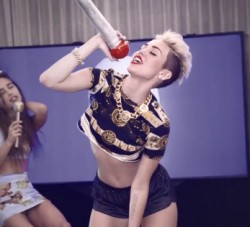 In case somehow you missed it last night, shrinking violet Miley Cyrus' new album is called 'BANGERZ'.
'BANGERZ'.
The announce­ment was made via the medium of Twitter after she finally reached 13m followers.
"13 million #BANGERZ," she tweeted simply, before adding:
"If you don't know why my record is called BANGERZ you'll know as soon as you hear it. Nothin but #BANGERZ."
Incredible.