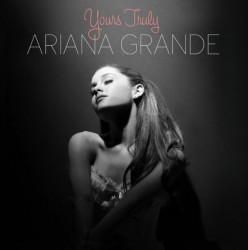 Nickelodeon mainstay Ariana Grande's debut album 'Yours Truly' now has a tracklist and a list of guests.
The album features the vocal talents of The Wanted's Nathan Sykes — who you may remember had some vocal issues but that was all kept pretty quiet — and Mika, as well as some rapping from Big Sean and Mac Miller.
That image to your right is the album's new 'cover art', which is decidedly less con­tro­ver­sial than the original.
The album is out on September 3, 'FYI'.
1. Honeymoon Avenue
2. Baby I
3. Right There (feat. Big Sean)
4. Tattooed Heart
5. Lovin' It
6. Piano
7. Daydreamin'
8. The Way (feat. Mac Miller)
9. You'll Never Know
10. Almost Is Never Enough (feat. Nathan Sykes)
11. Popular Song (feat. Mika)
12. Better Left Unsaid
13. The Way (feat. Mac Miller) [Spanglish Version]