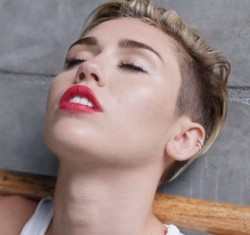 MTV have confirmed that Miley Cyrus will perform an Unplugged session thing on January 29.
The acoustic balladeer will perform re-worked versions of songs from 'Bangerz', alongside some special guests, the names of which haven't been announced yet.
(Pharrell will probably show up won't he.)
"The 'Unplugged' stage has been home to some of the most iconic live per­form­ances of all time," mused your friend and ours Amy Doyle, who as you well know is the EVP of music and talent pro­gram­ming strategy for MTV (as quoted here).
"Miley's vision for the per­form­ance is like nothing we've ever seen. I can say that this will easily be one of the most memorable 'Unplugged' per­form­ances to date."
The whole thing will 'air' at 9pm 'ET' on January 29.