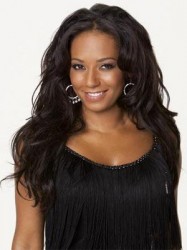 Spice Girl Melanie B has acci­dent­ally let slip that she may have landed a spot on the X Factor judging panel.
Speaking on Heart FM's breakfast show Mel B revealed she might be returning to the UK for quite some time before quickly back­track­ing: "I don't think I was meant to say that though. Oh sorry, pregnant brain, maybe that was a secret".
This comes only days after Simon Cowell made a similar 'gaffe' (although does Simon Cowell really make gaffes? Isn't everything revealed exactly when he wants it to be?) revealing Cheryl Cole was confirmed for the US version of the show.