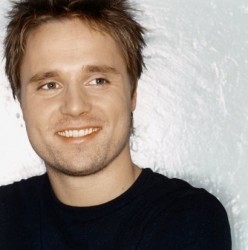 Excellent writer of songs Max Martin has been awarded The King's Medal in his native country of Sweden.
Max has been honoured for his "out­stand­ing work as a music producer and composer". As anyone who has heard '…Baby One More Time' and 'I Kissed A Girl' will attest, his song­writ­ing is among Sweden's proudest achieve­ments.
A look at the Swedish Royal Court's website reveals that Max Martin (listed under his birth name of Martin Sandberg) has recieved the 'eighth size' of medal — the second-highest honour that can be bestowed.
He joins swimmer Therese Alshammar and football coach Pia Sound Hage in receiving the medal, as shown here.