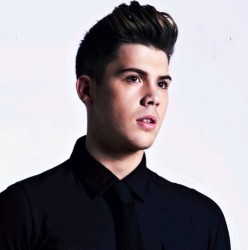 Former X Factor con­test­ant Aiden Grimshaw's debut album is almost finished.
He 'took to Instagram' last night to share a studio update with his Twitter followers who were 'treated' to 13 grainy images of the recording process.
Apparently, this wordy passage contains three song titles from his upcoming album. You don't have to be a genius to work out that they are probably 'Nothing At All', 'Uninvited Love' and 'Gritted Teeth'. All very good song titles, we are sure you'll agree.
In the photo story, he also intro­duced us to 'Iznay' the mixing desk, a "Sik Lamp" and a piano which goes by the name of 'Gwyneth'. Apparently 'Gwyneth' features heavily on Aiden's album, and #gwyneth sub­sequently started trending on Twitter. Oh dear. We can only hope that she sounds more like this than this.
He confirmed that he is looking forward to releasing his new music into the world, stating: "I'm excited". It's good to have that cleared up.