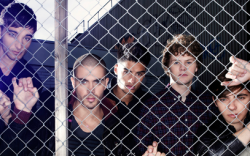 Max George has claimed that his US chart rivals One Direction are "more faces" whereas The Wanted are "more of a music band".
Distancing the two boybands, he compared 1D to everyone's favourite promise ring purveyors. "People look at them more like a Jonas Brothers sort of band that are very TV and children's magazine based," he explained to The Metro. "I don't think people really look at us over there as the same kind of band."
What a twat.
The two all-male five-piece British pop groups with one Irish member each are currently enjoying fresh success in the US with 'Glad You Came' at Number 5 and 'What Makes You Beautiful' at Number 50 on the Billboard Hot 100.