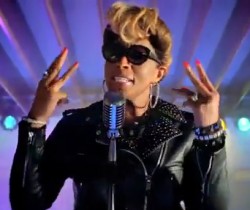 KFC-friendly song­stress Mary J Blige has warned that she might do a rock album in the future.
The 'We Got Hood Love' chanteuse, who is in the country to flog that awful-looking Rock Of Ages film, told BBC Newsbeat: "Everyone's approach­ing me [saying] 'You going to do a rock album?' Maybe now, because everyone's approach­ing me about it."
Noticing sim­il­ar­it­ies between the essence of rock and her music, she continued: "The energy in rock and roll is the energy in my music. I deliver strong emotions."
"Of course I did a song with U2 and covered some Led Zeppelin stuff," she concluded, seemingly unable to remember the song titles.