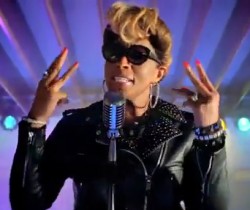 Three cheese con­nois­seur Mary J Blige has publicly apo­lo­gised to anyone offended by her per­form­ance in that Burger King advert from a few months ago.
Talking to Hot 97's Angie Martinez (good old Angie), about the advert and the fact that a sup­posedly unfin­ished 'cut' of it leaked, Blige said: "It was a mistake, but I did it because I thought it was something that wouldn't come out like that. It was sold to us that I would be shot in an iconic way… It hurt my feelings. It crushed me for like two days."
The advert drew claims of racism from some corners of the internet, something which Blige is very sorry about.
"I want to apologise to everyone who was offended who thought I would do something that was so dis­respect­ful to our culture," she said. "I would never do anything like that. I thought I was doing something right."
We imagine she was doing it for the cash to be honest.