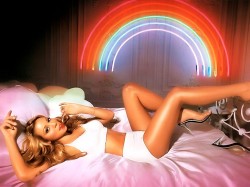 Mariah Carey's new album will be out this year according to her husband, Nick Cannon.
Obviously, Carey's been pretty busy of late, giving birth to twins Monroe and Moroccan, but it hasn't stopped her nearly finishing an album's worth of material, Cannon told Billboard.
"She's been working away, and we have a studio in the crib, and [the pregnancy] has totally inspired her on so many different levels," Cannon said, promising that "you're def­in­itely gonna see some new phe­nom­enal music from Mariah."