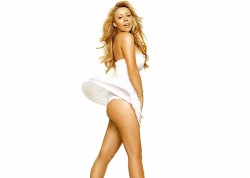 Mariah Carey will be a judge on the next season of American Idol, it has been confirmed.
According to The Hollywood Reporter, Fox Entertainment president Kevin Reilly announced the long-rumoured-but-not-actually-confirmed news at an 'executive session' at the Television Critics Association.
"We do in fact have one judge whose deal closed very recently," he said. "It's an artist that many con­test­ants have tried to emulate."
(Rosie Ribbons was an artist in her own right, Kevin.)
The 'Sunflowers For Alfred Roy' singer could not be there in person as the deal had appar­ently been finalised "only hours ago".
However she did manage to pick up her telephone from her New York penthouse bubble­bath (probably) to say this about the news: "I am so excited to be joining Idol. I can't wait to get started."
Incredible.