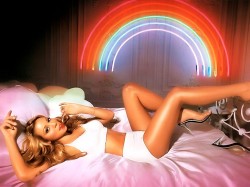 Mariah Carey and No Doubt will both be per­form­ing one song each at New York's Rockefeller Plaza to celebrate the start of the Amercian (ie not proper) Football season.
The live pre-game show takes place on September 5 and will 'air' at 7:30pm EDT on NBC.
You don't need us to tell you that after the music comes an exciting game of American Football between the New York Giants and the Dallas Cowboys.
According to the Huffington Post, Mariah's looking forward to making the season launch "even more festive", while the drummer from No Doubt is excited about it all.