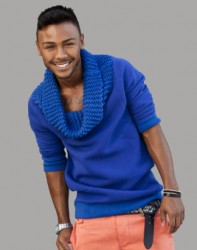 Marcus Collins is hopeful that his career can emulate that of Oliver Murs.
Setting his sights firmly between adequate and mediocre, he told 4Music: "I really hope to live up to the other runners up like Rebecca [Ferguson] and Olly".
Marcus cited Olly not just as an aspir­a­tional figure, but something of a mentor during the X Factor process, saying: "Olly kept me going through­out the show. [Olly had] been in that situation and he's also one of the presenters in the show so it was really good to have him there."
Marcus' debut single 'Seven Nation Army' is out on March 12.