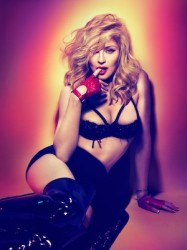 Madonna has defended the violent imagery used during her MDNA tour via a freeform "manifesto" she's shared with Billboard.
"My show Is a journey The journey of a soul from darkness to light It is part cinematic musical theatre. Part spectacle and sometimes intimate Performance art," the mainly grammar-free note begins, before going on to confirm that the fake guns shown at the beginning of the shows are "used as metaphors".
"I do not condone violence or the use of guns. Rather they are symbols of wanting to appear strong and wanting to find a way to stop feelings that I find hurtful or damaging," it continues.
The closing paragraph outlines Madonna's overall vision for the tour, which is not just to make a shitload of money but to "make the world a better place".
"[The show] must be watched with an open heart from beginning to end. I am sure if it is viewed this way, the viewer will walk away feeling inspired, Invigorated and will want to make the world a better place," it muses. "And this of course was always my intention."
You see this sort of makes perfect sense but equally you'd have to be a bit optim­istic to think the sub­tleties of this message might not be lost on an arena of 10,000 people.