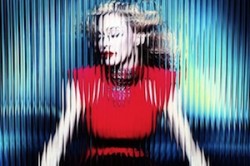 If you happen to be in Dubai at any point between May 24 and June 6 then you might be inter­ested to know that the largest private col­lec­tion of Madonna's old tat will be on display.
According to Albawaba the exhib­i­tion, called Madonna: Materials Of The Girl (!) and timed to coincide with her arrival as part of the MDNA tour, features "an exclusive col­lec­tion of outfits, iconic jewellery pieces, concert tour costumes, film props, pho­to­graphs, awards and personal items".
Highlights include the dress from the 'Material Girl' video, the bra thing she wore to sing 'Open Your Heart' and some gloves from the Who's That Girl tour.
If you do fancy popping in to have a look then you need to head over to the BurJuman Observatory Area between 10 am – 10 pm. You know the Virgin that's there? Well, it's opposite that.