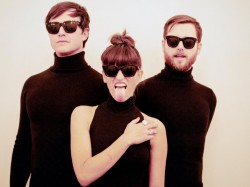 A 'bootleg' of Dragonette's 'Let It Go' and Alexandra Burke's 'Let It Go' may be on the horizon.
(How awful would that be?)
The 'Jesus Doesn't Love Me' hitmakers have made an a capella version of their above average new single available for the purposes of tinkering, along with a request to "send us snapshots of the babies you make".
If you fancy putting a donk on the track, you can download the file of Martina's vocals here.