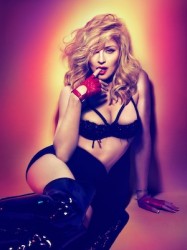 It's official: Madonna's 'MDNA' album has recorded the biggest second week per­cent­age decline in American chart history (well, since records began in 1991), with sales falling by 86.7%.
In 'real' terms that means 'MDNA' 'shifted' 48,000 copies last week, compared to 359,000 in its opening week.
The 'Girl Gone Wild' hitmaker has now 'acquired' this dubious honour from Lady Gaga, whose 'Born This Way' album suffered a similar fate, with a drop of 84.27%, in its second week last June. Perhaps this chart campaign is Madonna's way of paying 'homage' to Gaga.
Is now the time for us to mention again that 'Radio' should have been the first single?