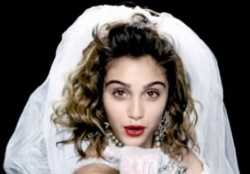 Lourdes Ciccone will join her mum Madonna on her MDNA world tour as a backing dancer.
A 'source' 'close to' the mother-daughter duo told the Daily Mail that "Madonna is really excited about Lourdes making an appear­ance", her daughter having already made a brief cameo in the video for 'Celebration'.
Lourdes helped Madonna audition the dancers at Pineapple Studios in London recently and decided after­wards that she would take one of the spaces in the 'troupe' when the tour starts in Isreal on May 31.