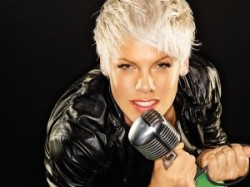 Lily 'Lily Rose Cooper' Allen's first recorded material in bloody ages has emerged. It does, however, take the form of a duet with Pink.
At some point last night, a lyric video for 'True Love' emerged online. It's very good, which is nice, and at the bottom of this story if you fancy a listen. You have to wait until 2:42 for Lily Allen to 'come in' though, so you'd better be a fan of Pink's notori­ously demure, night­in­gale-esque vocal stylings.
It's all part of the seemingly endless 'strategy' to 'tease' Pink's new album 'The Truth About Love', which is out on Monday. This week, the friend of Christina, Lil' Kim, Mya and Missy has debuted lyric videos for 'Are We All We Are', 'Just Give Me A Reason' (feat. Nate Ruess), 'How Come You're Not Here', her new single 'Try', and of course the heart-rending 'Slut Like You'.
There will basically be about 11 singles from this album won't there.