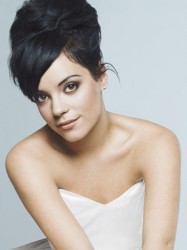 Pop music retiree Lily Allen has 'leant her support' to One Direction's bid for US success.
"It's amazing how well One Direction are being received across the pond," she told her Twitter followers. "Good luck to em I say, seem like good lads."
Polite young man Harry Styles replied "thanks for the support Lily! Hopefully meet you sometime soon".
HANDS OFF HARRY SHE'S TAKEN.
One Direction are currently Number 28 on the US Billboard Hot 100.