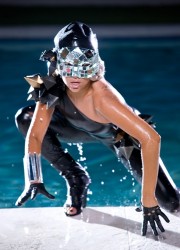 Lady Gaga's 'The Fame' has become the first album to reach online platinum status, having passed 300,000 digital downloads.
Official Charts Company managing director Martin Talbot says: "Congratulations to Lady Gaga for setting another record. In setting this latest landmark, Lady Gaga has further cemented her position in the annals of pop music history."
Indeed.
Gaga is now ahead of Kings of Leon ('Only By The Night'), Florence and the Machine ('Lungs'), Mumford and Sons ('Sigh No More') and Adele ('21').
This should brighten her day after news that Eminem has overtaken her on the old 'likes' front on Facebook (the rapper now has over 29.4 million 'likes' to Gaga's 29.2). Which is all very well but can Eminem give birth to a machine gun? No. Exactly.