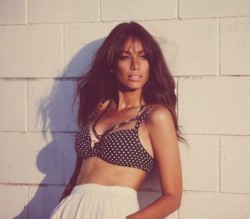 Global Songstress Leona Lewis' new single, the Emeli Sandé-penned 'Trouble', will feature a 'guest verse' from Childish Gambino.
According to Syco Music MD and A&R Sonny Takhar, who was chatting away to Music Week, everyone's "very confident about 'Trouble'" and Emeli and Leona "have a very special chemistry", which is good to know.
In a lengthy piece about 'Glassheart' in general, it's also confirmed that the album will finally be released on October 15, with the single out a week earlier.
They also had a bit of a chat with Leona herself who had nothing but praise for Fraser T Smith who was brought in to weave a "creative thread" through the album (he's executive produced it).
"He's captured everything beau­ti­fully," she explained. "He's so musical and sensitive to what I need as a vocalist."
"The little nuances that he brings to [the album] have really made it," she added.
Leona will perform 'Trouble' on The X Factor on October 6, which is handy.