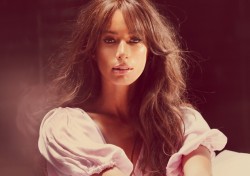 Leona Lewis is recording a Christmas album because Simon Cowell thought it would be a good idea.
"Simon is still very much involved in my career and helps me out," the 'Lovebird' hitmaker told the Evening Standard. "He came up with the Christmas album idea, and we both kind of felt it was the right time to go ahead with it."
We think in this context that 'right time' means 'following poor sales of my last album'.
So what's it going to have on it, Leona?
"I'm doing some classics with quite a Motown feel. There's also going to be a bit of original material in there."
We imagine it will be out in time for Christmas, but don't hold us to that.