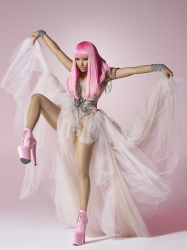 Lady Gaga's former cho­reo­grapher Laurieann Gibson is excited about working with Nicki Minaj again, following their under­stated Grammys collaboration.
Talking to MTV, Gibson said: "She's so full of life. She's so fun. She makes me laugh."
"It's just really great to be part of just really pure, bright people who just love what they do and the music. She's an MC, she's a rap artist, and it's great we have the chance to compete on such a huge scale," she continued.
She also confirmed that Minaj's new album will be dis­tinctly above average, calling it "brilliant" and "amazing".