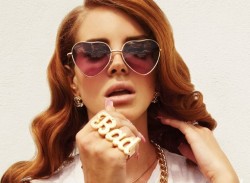 According to the head of her label Lana Del Rey had "three CDs'-worth of songs written" when she was signed last year.
Quoted by Music Week, Polydor president Ferdy Unger-Hamilton said there was enough good stuff to do "the album and a deluxe [edition] and still have stuff left for later records. She's a really talented writer and a remark­able lyricist".
He also reit­er­ated that none of her success — the album shipped more than 900,000 in a week — would have happened if 'Video Games' weren't so amazing.
"This all started because of the power of a song. As we speak, Video Games has [spent] eight or nine weeks in the UK Top 20. This project would have undoubtedly been a disaster with that much attention if she didn't have 60 or so songs written when we signed her," he continued.